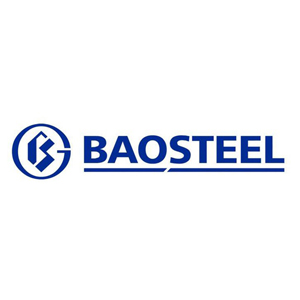 Baoshan Iron & Steel Co., Ltd. (hereinafter referred to as Baosteel) was established on Feb. 3, 2000, and listed on Shanghai Stock Exchange on Dec. 12 in the same year. Baosteel is the largest and most modernized iron & steel complex and also one of the most competitive steel enterprises in the world. At home, Baosteel has always taken the leading position in manufacturing and selling cold rolled steel products, hot rolled steel products, seamless steel tubes, etc. and has grown-up into the most influential iron & steel provider to the industries covering auto, electrical household appliances, petroleum, etc. In 2004, Baosteel entered the international market and took the first to rank among the world top 500 enterprises in China's iron & steel industry. Baosteel is striving for building the largest and most modernized production base of first-grade constructional steel, having topping production lines of prepainted steel sheets with advanced technologies, a complete set of base metal products in specifications, a great diversity of coatings and a yearly output of 0.55 million tons. Its products are widely used in architecture, electrical household appliances, airports, sports hall, civilian buildings, factories, etc.
The hot-dip galvalume steel is a kind of coated steel. With the cold rolled steel of different strength and thickness as substrate, it is produced through applying the Al-Zn coat on both faces by the hot-dip process. In its coating, Al accounts for about 55%, Si 1.6%, while the remaining is Zn. It enjoys both the physical protective feature and durability of Al and the electrochemical protective property of Zn. And its surface has a bright silver color and regular embossed-like figures, which are highly decorative.
Al-Zn coated steel sheet has better performance in corrosion resistance than the GI sheet of the same thickness and its service life is 1-5 times longer than the general GI sheet.
The Baosteel's hot-dip Al-Zn coated steel sheets have been used for Corrugated Steel Roofing Sheet, Insulated Sandwich Panel and many other building materials.
Baosteel's hot-dip Al-Zn coated steel sheets.PDF